Pan Am: History, Design & Identity is the captivating story of an airline company that refused to consider anything impossible and single-handedly revolutionized air travel despite ­innumerable technical, political and organizational obstacles. From modest beginnings in the late 1920s, Pan Am developed into the world's best known airline company and served as an ambassador of American values and leadership. No other company has had a comparable influence on the ­airline industry, continually finding solutions for problems considered insolvable by others.
Pan Am's rapid rise was accompanied by highly effective publicity campaigns which featured some of the best design and advertising in the industry. This book takes the reader on a journey into the elite world of early air travel and into the jet age when a plane ticket became ­affordable for the general public and mass tourism took off. The blue globe symbol, developed in the mid 1950s, gained fame around the world. An icon and legend, it has remained in our collective visual memory down to the present day.
The author explores the astonishing complexity of the company and its founder, Juan Trippe, including some of the lesser known activities. For example, Pan Am for more than a decade built and operated the largest airline in China. Moreover, it founded Intercontinental Hotels, which has become a leading hotel group. As a pioneer of global hotel operations, the company introduced a remarkable architectural and graphic design concept.
Numerous images in this book have never before been published. Great care was taken not only in developing a spell-binding visual storyline to complement the text, but also in reproducing and digitally restoring all images as accurately as possible. The book is a tribute to one of the most important companies of the 20th century and to its visionary founder.
"The best book ever written on any airline – Pan Am or otherwise."
Jeff Kriendler, former Pan Am vice president for corporate communications

"Pan Am's soaring brand image comes alive"
Adweek

"High-Flying Design"
Steven Heller

"What a book! The more you scrutinize it, the more interesting it gets."
Frankfurter Allgemeine Zeitung

"Pan Am's history is well documented, but never before has it been done so beautifully or so thoroughly as in a new coffee table book from Callisto. The result is a treasure trove of travel nostalgia that anyone from design aficionados to history lovers to modern-day vagabonds are sure to enjoy."
Vogue

"This book belongs on every travel lover's shelf."
USA Today

"A jumbo-sized design book explores why, long after the company's demise, its blue globe is still considered a pop culture icon."
Departures magazine

"Besides a comprehensive history of the airline, Huhne has hit the photographic jackpot, presenting scads of historical images."
Realclearlife.com

"An excellent book that captures Pan Am's pioneering spirit in the design, advertising and publicity strategies of the airline."
NOVUM World of Graphic Design

"A masterpiece"
Airways Magazine

"Glorious"
The Guardian

"Fasten your seatbelt and prepare to enjoy this brilliant history of the world's most glamorous airline"
Daily Mail

"A time when flight and art made magic"
The Boston Globe

"The book by German publisher Callisto will have you cringing at the current state of air travel—and longing for the glory days when flying was still exclusive."
Bloomberg

"Timeless"
Die Zeit

"The airline's identity still resonates."
Design Observer

"Historians may include the book among their guilty pleasures."
Perspectives on History, the Newsmagazine of the American Historical Association

"The book examines the company's attention to its visual identity, from vivid posters of distant destinations, to modernist architecture for its terminals"
Hyperallergic.com

"A fantastic book"
The New Zealand Herald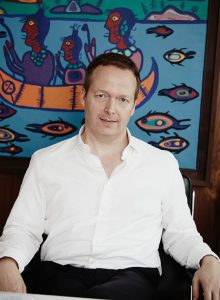 Matthias C. Hühne (*1968) is a property developer and owner of Callisto Publishers. His primary occupation since graduating from Harvard College in 1989 has been the development of high quality commercial and residential real estate projects. Hühne left his position as project manager with U.S. real estate pioneer Gerald D. Hines to found his own award-winning development company in 1996, and an architectural services firm a few years later.
He collects and supports modern art as well as North American native art, and takes a special interest in commercial design and the history of architecture. So far, Hühne's books have received numerous appreciative reviews in leading media around the world.
Author – M.C. Hühne
Language – English
ISBN – 9783981655063
Number of Pages – 432
Size – 23.4 × 31.0 cm (9.2 × 12.2 inches)
Illustrations – 676 color, 185 b&w

SOLD OUT