Airline Visual Identity 1945 – 1975 reconstructs the visual language of thirteen pioneering airlines at different points in time. The visual identity of airlines was the most complex of all industries in this era, made up of hundreds of items for each carrier, ranging from timetables and print advertisements to aircraft interiors and liveries of the aircraft themselves. A series of case studies analyses the most important design developments for each airline and the strategies behind them, accompanied by carefully curated work of famed designers and advertising icons, taking the reader back in time to witness the glamorous days of the airline industry. The book provides unique insight into the design and advertising methods of an era when airlines were considered the most esteemed business sector and quality was the main criterion for selecting a flight.
Conceived by some of the best creative minds of the time, such as Massimo Vignelli, Otl Aicher, Academy Award winner Saul Bass, Ivan Chermayeff or advertising titan Mary Wells Lawrence, the designs found in the book also illustrate the shift from traditional methods of corporate design and advertising to comprehensive modern branding programs.
The Premium Edition of this title has received fine reviews in the most influential media around the world.
"The perfect 'Mad Men'-era eye candy."
The Boston Globe

"The true size of its ambition is how it reveals the optimism of the Jet Age from airlines like Pan Am, TWA, and United, evoking a time now seen as the golden age of flying."
The New York Times

"This awesome book sparkles with pure joy and wanderlust."
Frankfurter Allgemeine Sonntagszeitung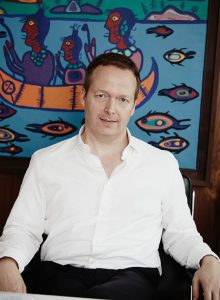 Matthias C. Hühne (*1968) is a property developer and owner of Callisto Publishers. His primary occupation since graduating from Harvard College in 1989 has been the development of high quality commercial and residential real estate projects. Hühne left his position as project manager with U.S. real estate pioneer Gerald D. Hines to found his own award-winning development company in 1996, and an architectural services firm a few years later.
He collects and supports modern art as well as North American native art, and takes a special interest in commercial design and the history of architecture. So far, Hühne's books have received numerous appreciative reviews in leading media around the world.
Author – M.C. Hühne
Language – English
ISBN – 9783981655018
Number of Pages – 384
Size – 23.4 × 31.0 cm (9.2 × 12.2 inches)
Illustrations – 524 color, 32 b&w

SOLD OUT